Phyllis Chesler
Tłumaczenie: Małgorzata Koraszewska
---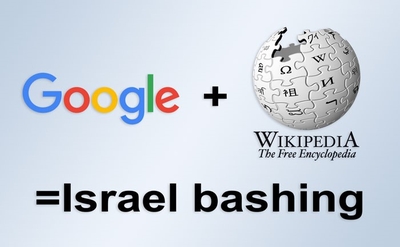 Okupacja jest słowem, które dominuje większość dyskusji o Izraelu, ale prawdą jest, że propalestyńscy propagandziści okupują Google i Wikipedię, by podtrzymać przy życiu dawno obalone narracje.
Zobaczyłam to wyraźnie, kiedy brałam udział w webinarium z lekarką, który pracowała w tajnej jednostce Izraela, "Dudevan", pierwowzorem dla popularnej serii Fauda. Mówiła o swojej pracy w Gazie i na Zachodnim Brzegu podczas Operacji Ochronny Brzeg.
"Sądziłam, że nic mnie już nie zdziwi. Ale wiele rzeczy dziwiło" – powiedziała. Lekarka opowiedziała historię próby uratowania życia 2,5 letniego chłopca z Zachodniego Brzegu, którego niechcący przejechał samochodem jego ojciec. Błyskawicznie zabrali chłopca do izraelskiego szpitala, po drodze starając się utrzymać go przy życiu.
"Mimo wszystkich naszych starań – opowiadała – chłopiec umarł. Kiedy spytała ojca, czy ofiarowałby narządy chłopca innemu dziecku, odpowiedział: 'Tylko dziecku palestyńskiemu, nie dziecku izraelskiemu, Żydowi'".
To był ojciec, który właśnie widział niesamowity wysiłek izraelskich Żydów, by uratować życie jego syna; to był bardzo dramatyczny i emocjonalny moment. Stare uprzedzenia mogły ustąpić, przynajmniej na chwilę. Jednak wyuczona nienawiść tego człowieka do Żydów i Izraela włączyła się natychmiast. Lekarka osłupiała wobec nagłego pojawienia się takich właśnie "politycznych realiów".
To jest rodzaj psychologicznego wroga, jakiego Izrael ma przeciwko sobie. A dalej są palestyńscy przywódcy terrorystyczni, którzy indoktrynują własną ludność i używają jej do podejmowania ataków terrorystycznych przeciwko izraelskim cywilom. Zachodnie media i globalni liderzy minimalizują ten fakt.
Przy diabolicznych podwójnych standardach świata izraelscy żołnierze są oskarżani o potworności, których nigdy nie popełnili, podczas gdy palestyńscy terroryści – Hamas, Palestyński Islamski Dżihad, Organizacja Wyzwolenia Palestyny, Fatah, Ludowy Front Wyzwolenia Palestyny – którzy torturują, porywają ludzi i samoloty, używają ludzkich tarcz, włącznie z dziećmi, są nadal postrzegani jako niewinne ofiary.
Wbrew panującej opinii, Izraelska Armia Obronna (IDF) jest wyjątkowo etyczna, co potwierdzają wojskowi dowódcy z innych krajów. Dla izraelskich żołnierzy dramatem jest każda przypadkowa śmierć cywila, ale i śmierć własnych towarzyszy. Inaczej niż przywódcy palestyńskich terrorystów, nie gloryfikują śmierci i opłakują każdą stratę życia w nieustannej bitwie o przetrwanie. Trzeba to powtarzać raz za razem, by przeciwdziałać koszmarnej propagandzie przeciwko Izraelowi.
Zatruta antyizraelska propaganda ciągle zalewa wszystkie platformy medialne. Pamiętacie na przykład rzekomą masakrę dokonaną w 2002 roku przez Izrael na cywilach z Dżanin (Jenin)? Opisywano ją na czołówkach gazet na całym świecie.
Ta "masakra" nigdy się jednak nie zdarzyła.
Przez niemal dwa lata arabscy terroryści nieustannie atakowali izraelskich cywilów. Było bardzo dużo ofiar śmiertelnych i rannych. W marcu 2002 roku terroryści zamordowali 100 Izraelczyków. 27 marca zamachowiec-samobójca wysadził się w powietrze w hotelu Park w Netanji właśnie, kiedy Żydzi siadali do Sederu w Pesach. Trzydzieści osób zginęło, w większości ludzi starszych wiekiem. Kolejnych 140 odniosło rany.
To była ostatnia kropla. Wielu zamachowców-samobójców pochodziło z Dżanin
IDF wysłała żołnierzy do Dżanin. Szli od jednego domu zamienionego w bombową pułapkę do drugiego, cały czas pod ogniem, tylko po to, by nie oskarżono Izraela o bombardowanie z powietrza lub o popełnienie masakry.
Raporty palestyńskiej strony opisywały niczym nieusprawiedliwiony izraelski festiwal mordów, z setkami zabitych, niewinnych ludzi. Niektórzy mówili o tysiącach zabitych. Jak twierdzono, całe miasto zostało zniszczone.
W rzeczywistości zginęło 56 Palestyńczyków, z których większość była uzbrojona. Izrael stracił 23 żołnierzy. Mimo tego, jeśli ktoś chce się dowiedzieć, co się tam stało i zacznie szukać w Google pod hasłem "Jenin", oto, co znajdzie.
Na pierwszych pięciu stronach o "Jenin" jest 27 antyizraelskich artykułów, promujących fałszywą historię i tylko siedem, które mówią prawdę o tym, co zdarzyło się naprawdę.
Szukaj w Google "How many Palestinians died in Jenin, 2002" [Ilu Palestyńczyków zginęło w Dżanin, 2002] a to jest pierwsza rzecz, jaka zobaczysz dzisiaj: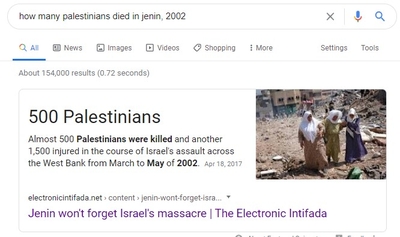 To było kłamstwem wtedy. To jest kłamstwem dzisiaj.
Wiadomości prasowe i telewizyjne, dwa znakomite filmy – Pierre Rehova The Road to Jenin i Gila Mezumena Jenin Diary: The Inside Story – i bardzo poruszająca książka Bretta Goldberga A Psalm in Jenin, z łatwością obalają zakłamaną "historię przekazywaną przez algorytmy" z Google i przypominają, co się naprawdę zdarzyło.
Naprawdę ważne jest to, że propaganda o rzekomej masakrze w Dżanin nie ogranicza się do lat 2002-2003. Kłamstwa trwają przez cały XXI wiek.
W latach 2017-2018 islamistyczni propagandziści, Yvonne Ridley i Ilan Pappe, kontynuowali powtarzanie tego krwawego oszczerstwa.
Jeszcze w zeszłym tygodniu Yvonne Ridley mówiła o tej masakrze, której nie było, jako jednej z "największych zbrodni wojennych tego stulecia".
Ponad pół miliona martwych Syryjczyków mogłoby temu przeczyć.
Taka propaganda, jaką szerzy Yvonne Ridley, w sposób nieunikniony jednak prowadzi do prawdziwych masakr i linczów – Żydów i Izraelczyków.
Częścią problemu jest powiązana z Google Wikipedia, która jest pełna antyizraelskich kłamstw i propalestyńskiego stanowiska. Na przykład, spójrzcie, co wyskakuje dzisiaj, kiedy szukacie hasła "Palestinian terrorist groups" [palestyńskie grupy terrorystyczne]:

Pierwszą rzeczą, jaką jednak zobaczycie, jest podsumowanie Wikipedii "palestyńskiej politycznej przemocy".
"Palestyńska przemoc polityczna oznacza czyny przemocy lub terroru motywowane przez palestyński nacjonalizm. Te polityczne cele obejmują samostanowienie i suwerenność w Palestynie, 'wyzwolenie Palestyny' albo w miejsce zarówno Izraela, jak i palestyńskich terytoriów, albo wyłącznie palestyńskich terytoriów. Czasami skierowane na bardziej ograniczone cele, takie jak uwolnienie palestyńskich więźniów w Izraelu, innym kluczowym celem jest przybliżenie realizacji palestyńskiego prawa powrotu".
Podobnie jak tak zwana "masakra" w Dżanin, sprawa Al-Dury dotyczy rzekomego zamordowania z zimną krwią w 2000 roku 12-letniego palestyńskiego chłopca przez izraelskich żołnierzy na skrzyżowaniu Netzarim. Jaserr Arafat raz jeszcze odrzucił pokój i rozpoczął długo planowaną intifadę przeciwko Izraelowi. Świat muzułmański uznał Al-Durę za męczennika i pokazywał jego zdjęcie raz za razem w mediach, na koszulkach, kubkach, plakatach itd. Nadal to robi.
Dziennikarka Nidra Poller określa sprawę Al-Dury jako "balistyczny mit dalekiego zasięgu". Przez wiele lat cały świat wierzył, że izraelscy żołnierze umyślnie zamordowali dziecko. Także IDF szybko wystosowała przeproszenie, które po zbadaniu sprawy wycofała – dzięki heroicznej i upartej pracy dokonanej przez Nidrę Poller i przez Richarda Landesa, Esther Schapira, Philippe Karsenty'ego i izraelskiego fizyka, Nahuma Shahafa.
Z czasem stało się jasne, że jeśli nawet Al-Dura w ogóle został zastrzelony, nie mogli zrobić tego Izraelczycy.
Chociaż Google nadal automatycznie podaje link do Wikipedii, w końcu dołączono pod hasłem "Al Dura" fakt, że kontrowersja wokół tego, co się zdarzyło, rzeczywiście istnieje. Jednak dział opisujący tę kontrowersję pojawia się na samym końcu tego hasła w Wikipedii, najpierw jest fałszywa narracja podawana jako prawda.
Protesty w Gazie w 2019 roku przy granicy z Izraelem dostarczają najnowszego przykładu sytuacji, kiedy Palestyńczycy dokonują przemocy, a propaganda rażąco przekłamuje izraelską reakcję.
Antyizraelska grupa, Jewish Voice for Peace, dołączyła do chóru głosów twierdzących, że Izrael zabija pokojowo protestujących Palestyńczyków. Twierdzono między innymi, że "Izraelscy snajperzy" umyślnie obierają za cel "dzieci i osoby niepełnosprawne".
Okazało się, że przeważająca większość ofiar śmiertelnych to byli członkowie lub stowarzyszeni z organizacjami terrorystycznymi. Ponad połowa zabitych składała się z członków i osób stowarzyszonych z Hamasem.
Dowiedzieliśmy się tego od funkcjonariuszy Hamasu.
Poszukaj jednak "Gaza border protests", a nigdzie nie zobaczysz tych faktów.
Jest jasne, że ta śmiercionośna kampania dezinformacji nigdy się nie skończy, ale ci, którzy zarządzają platformami w Internecie, nie powinni pomagać w tym przestępczym procederze.
---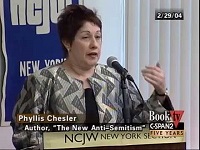 Phyllis Chesler – Emerytowana profesor psychologii City University of New York, współzałożycielka Association for Women in Psychology oraz National Women's Health Network.
---
---